Local Hobby Shops.....
Everyone likes to save money, but before you buy mail order, check out these local suppliers. Remember, by making the right purchase you will save you money. These guys are here to help you and get the right product into your hands. Please support them so they continue to stay in business and are there when we need them.

Radio Control Hobbies
http://www.rc-hobbies.com/baltimorenorth
1512 York Road
Lutherville, MD 21093 ph: (410) 376-7076
Middle River Hobbies
http://www.middleriverhobbies.com/
136 Carroll Island Road
Middle River, MD 21220 ph: (410) 335-0707
Extreme RC Hobbies
35 Friendly Dr. Quarryville, PA 17566
(717) 284-0164
Hobby Hanger
14014-d Sullyfield Rd. Chantilly, VA 20151
(703) 631-8820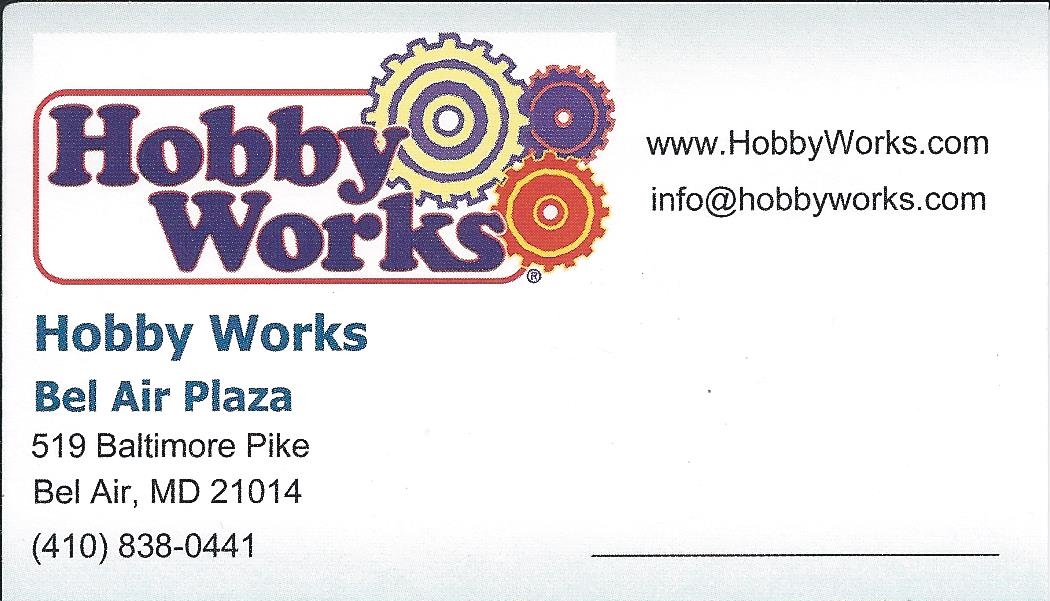 David Gettle - D.E. Gettle Hobby LLC
http://www.degettlehobbyllc.com
P.O. Box 486 New Freedom, PA 17349
(717) 742-2303

Here is the link to the map where RC should not be flown:
https://www.mapbox.com/drone/no-fly/?embed=true#9/39.1428/-76.5157
Expand/contract/navigate using your mouse.  Put your cursor on the red areas and it will tell you why you canít fly RC in that area (national parks, military, airports, etc.)
Suppliers.....
All American Kit Cutters
Balsa USA (building materials and kits)
Battery University
Don's Hobby Shop, Inc. (Duralite Batteries)
Dynamic Balsa & Hobby Supply (foam replacement wings)
FOX Manufacturing Co.
Hobby Lobby Inc.
Hobby Shack
Horizon Hobby, Inc. (Saito, JR Radios)
Lanier RC, Inc. (airplane kits)
Midwest kits
SignPost-Denise Herbert 410-357-4684
METAL EXPRESS
http://www.headsuprc.com/servlet/StoreFront
Heads Up RC: Electric Plane Supplies (motors, esc, connectors, wiring) $2.00 shipping
http://parkflyerplastics.com/cart/index.php?main_page=index
ParkFlyer Plastics: Molded plastic parts (cowls, spinners, canopies, pilots, arf+kit upgrades,foam+balsa kits)
www.batteriesamerica.com for Mr. NiCAD
O.S. Engines
Park Flyers
Precision Model Products(Tru-Turn Spinners)
RC Showcase (ZDZ gas engines)
Robart Manufacturing, Inc. (retracts) http://www.robart.com
Sig Manufacturing Company Inc. (models - ARF's and kits)
Super TigreTNT Landing Gear
Toledo Conference
Top Flite
Tower Hobbbies
WRAM Show
Xenonproject - RC Models at a good price
Clubs....
Central Maryland RC Model News
Baltimore Area Soaring Society
Frederick Model Airplane Club
Hobby Clubs Of Maryland - The RC Source
South West Area Park Modelers
York PA. RC
Local Maryland Modeling Posting site
Sunday Flyers
www.aeromodelismocolumbia.com