RCMB Membership Information
At RCMB we are always looking for and welcoming new members into the club. We currently have approximately 125 dues paying members in RCMB.

Consider the following.....

A great group of hobby enthusiasts of all ages and from all walks of life.

A great facility that is one of Maryland's best kept secrets.

One of the lowest dues structures in the hobby and in the area!

Joining RCMB is not a painful experience! We do require that each member join the national organization, The Academy of Model Aeronautics, for insurance reasons. Information on the AMA can be found at the AMA site. Applications can be processed by fax if you are in a hurry.

RCMB has 4 types of club membership available. Click here for RCMB dues structure.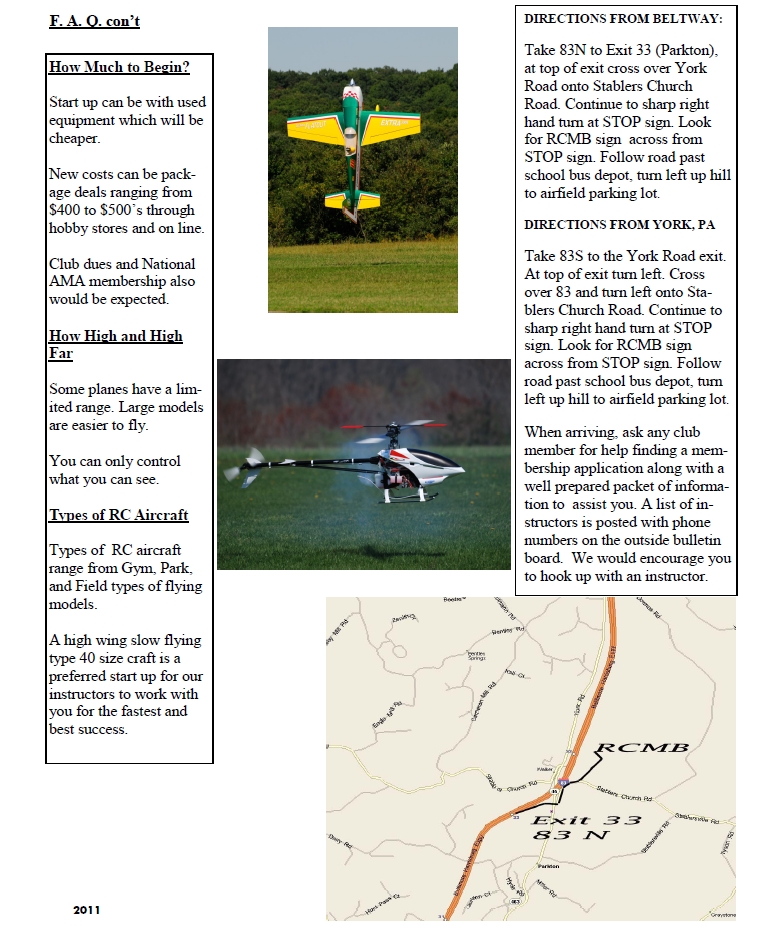 Club Field Rules
KIRK FIELD FLYING RULES
Approved by RCMB Board of Directors on 04/08/2017
General Field Rules
1. All pilots must have a current AMA membership and are required to adhere to AMA, FAA, RCMB and Baltimore County rules and regulations.
2. To fly you must be certified by a RCMB instructor.
3. Hours of operation: Fuel powered aircraft from 10am to 8pm. Electric aircraft from dawn to dusk.
4. Spectators must remain in the spectator area*. Children must be supervised by a responsible adult.
5. All flying guests must be certified and accompanied by a club member
6. No stakes or spikes are to be driven into the ground beyond 10 inches for any purpose (To protect the landfill membrane).
7. Engine sound levels must be at or below: 96 dba. (10am to 12 noon), 98 dba. (12 noon to Spm) and 96 dba. (5pm to 8 pm). Exceptions are allowed for special events, approved by the Board of Directors.
Safety Rules
1.Powered planes (engine and electric) preparing to fly, may only to be started in the pit area**.
2. Electric powered planes are only to be plugged in/armed at the pit area** unless the propeller is removed.
3. Engines/motors being broken-in or tested, must be run near the break-in table at the end of the mower shed.
4. No running engines or motors are to be left unattended.
5. No planes are to be flown under 100' directly towards the flight stations, pit area** or spectator area*.
6. There is no flying during the grass cutting or field work sessions (usually Thursday mornings).
Flying
Rules
1. Takeoffs and flying from the pit area** or spectator area* is prohibited
2. Taxiing behind the flight stations or into the spectator area* is prohibited.
3. Pilots must fly from one of the six flying stations ( limit of six aircraft flying at the same time).
4. Drone or Helicopter pilots are encouraged to use the "Helo" pad at the south end of the field.
5. No "hand launching" is allowed from the flight stations. To hand launch you must be at least 10' from either side of the stations, announce the launch, launch, and then move into a flight station as soon as practical.
6. No fuel-powered planes allowed to fly past the 3 orange cones located on the hill at the south end of the runway.
7. For flight emergencies, the pilot must announce the emergency and be given the landing right of way.
8. For general flying, pilots are to fly in a" Standard Pattern". Boundaries and turn zones are shown in Fig.1.
9. In the "Standard Pattern", only in line maneuvers, such as: Taking Off, Landing, Touch & Go, Low Pass, Inverted Flight, Knife Edge, etc. are allowed following a racetrack configuration as show in Figure. 1.
10. Pilots may request to fly a "Nonstandard Pattern", thereby allowing them to NOT fly a normal racetrack configuration. To be in effect, all flight line pilots must agree on how they will fly without impacting safety. Examples of when a "Nonstandard Pattern" might apply are" 3D, training, special demonstrations, testing, and drone/helicopter operations from the flight stations.
11. All Takeoffs, Landings and Touch & Go's require that they be in line with the runway and the pilot.
12. There is a white chalk line in the grass 25' out in front of the 6 flying stations. All takeoffs and landings MUST take place on the far side of that line. Landing or taking off inside of that line is never allowed and is a safety violation.
Note: Since RCMB now has a signed lease with Baltimore County for the use of these grounds, a violation of some of these rules could lead to a termination of the lease and loss of our flying privileges . Please take our rules seriously!
Rule Enforcement
1. Any rule infractions that cannot be resolved amicably between the pilots at the field should be brought to the attention of the Safety Officer or the Board of Directors.
2. The Board of Directors will decide on serious rule violations and take appropriate actions.
" Spectator area is on the west side (club house side) of the green fence.
"" Pit area is on the east side of the green fence directly behind the flight stations